Eames Lounge Chair Replica
Product pages only show part of our furniture products, please fill in the form if you need full furniture catalogue. You can also send us the drawings, BOQ and FF&E if you have your own design, we are glad to help you.
Eames Lounge Chair Replica for Sale
The Eames Lounge Chair stands as an iconic piece of furniture design, celebrated for its timeless style, exceptional comfort, and enduring popularity. Crafted by Charles and Ray Eames in the mid-20th century, this chair has become synonymous with elegance, luxury, and sophistication.
However, for many design enthusiasts and individuals on a budget, the price of an original Eames Lounge Chair may seem exorbitant and out of reach. Fortunately, the availability of replica versions brings the essence of this iconic chair within grasp.
While the original Eames Lounge Chair commands a high price tag due to its craftsmanship, history, and prestigious brand association, replicas and reproductions offer an affordable alternative without compromising on style and comfort. These replicas capture the essence of the design, making it accessible to a wider audience who appreciates the beauty and allure of the Eames Lounge Chair.
In the following sections, we will explore the world of Eames Lounge Chair replica, from their design and materials to their availability and considerations when purchasing. Let us delve into the realm where quality, affordability, and style converge to make the iconic Eames Lounge Chair a reality for those who desire its exceptional presence in their living spaces.
Eames lounge chair History
The Eames lounge chair is a piece of furniture designed and introduced in 1956 by world-renowned designers CHARLES EAMES (1907-1978) and his wife RAY KAISER (1912-1988). This chair later became a permanent collection at the Museum of Modern Art (MOMA) in the United States and is regarded as one of the most influential art pieces of the 20th century.
It is a perfect combination of modern industrial technology and traditional craftsmanship, showcasing the pursuit of function and aesthetics in design by CHARLES & RAY EAMES. It fills a gap in the history of furniture.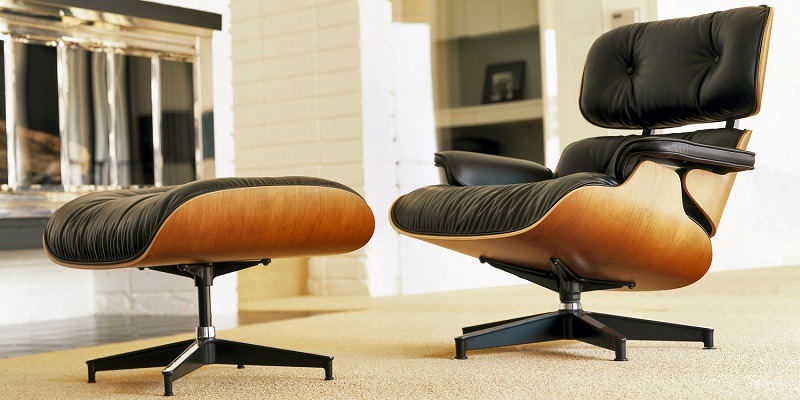 Since its inception over 60 years ago, Eames lounge chair has remained highly sought after by many global politicians and celebrities. From director Martin Scorsese, renowned actress Jane Fonda, Benedict Cumberbatch, Robert Downey Jr. (Iron Man), Steve Jobs (co-founder of Apple), to Bill Gates (co-founder of Microsoft), these stars, elites, and celebrities all own this chair, which seems to symbolize power and wealth.
The first set of Eames Lounge Chair with ottoman was gifted by the Eames couple to their friend, the Oscar-winning film director Billy Wilder, as a birthday present in 1956. It was then loved by many celebrities and elites, leading to its wide production. Therefore, Eames lounge chair is also an excellent gift choice for successful individuals.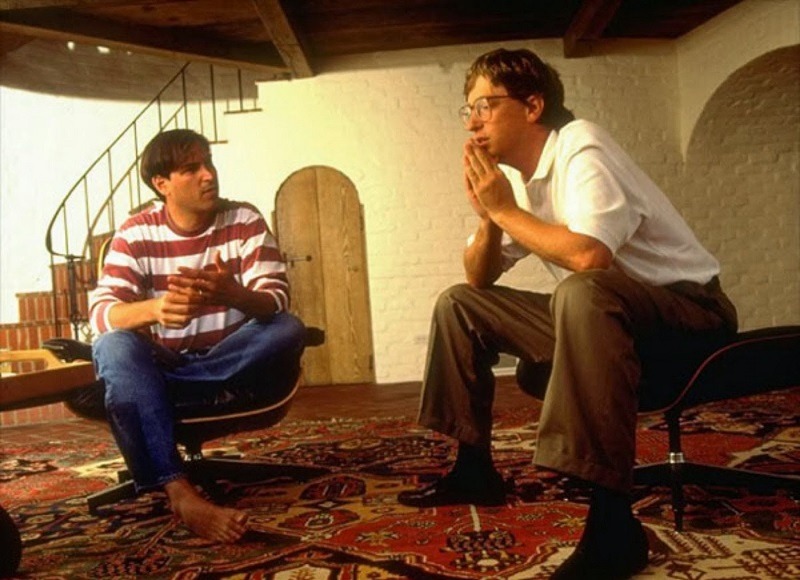 The Eames lounge chair, with its bent plywood shell wrapped in top grain leather cushions, encompasses both retro luxury and modern fashion. It is the most representative and collectible furniture of the 20th century. The Eames couple, famous for designing a series of accessible chairs, surprised everyone during a prime-time family show in 1956 by introducing a luxury item that was a delight for luxury lovers—the Eames lounge chair. At that time, a Chaplin-style black and white film was also shown, transforming the Eames lounge chair from a pile of components into a complete chair, and then disassembling it and packing it into a box.
This interesting film made people remember this magical couple and their avant-garde chair. With details such as the "15-degree incline" and the "three-section design," the combination of leather and bent plywood, they meticulously crafted this lounge chair set.
Eames lounge chair designer
Charles Eames was an architect, inventor, designer, craftsman, scientist, filmmaker, and professor. He was born in 1907 in St. Louis and studied architecture at Washington University. He began working in 1930 and married Ray Kaiser (later known as Ray Eames) in 1940. From then on, this extraordinary couple embarked on a legendary design journey together and became renowned as the most influential designers of the 20th century.
Throughout their career, the Eames couple always pursued the enjoyment of "true pleasure." They left behind numerous works that are still considered classics today. These works have stood the test of time and are characterized by their simplicity and modernity, their playful yet functional nature, their smooth and exquisite craftsmanship, and their exquisite yet minimalist appearance. This is what we now recognize as the "Eames style."
In 1941, in order to ensure the production of their first batch of chairs during World War II, Charles and Ray conducted repeated experiments and perfected a cost-effective plywood lamination process, making plywood furniture possible and bringing chairs to the masses. In the same year, Charles also worked part-time in the art and design department of MGM Studios. In addition to furniture, the Charles Eames studio also designed and produced toys, gliders, leg splints, and magazine covers.
In the mid-20th century, Eames couple revitalized Herman Miller company by mass-producing a large number of affordable chairs using a technique of molding plywood through heat and pressure. This made chairs more lightweight and accessible to the general public. The design of Eames has always been regarded as "interdisciplinary design." He emphasized the structural, functional, and aesthetic aspects of design and sought to combine his works with disciplines such as graphic design and photography. The Eames Lounge Chair he designed in 1956 and the Tandem Sling seating for airport in 1962 are both considered classics of designer chairs.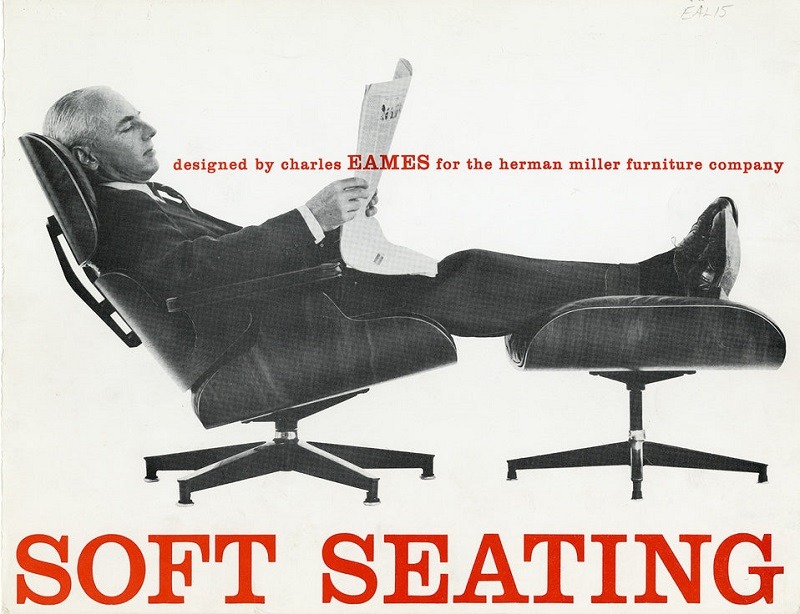 The Eames couple had a great appreciation for plywood, seeing its potential use as a material. In the early days, plywood was mostly used in the military as protective paneling and had little application in furniture. However, the Eames couple took this material to its extreme and utilized it to great effect in furniture manufacturing. They harnessed the capabilities of this affordable and easily mass-produced material, showcasing its immense potential in the world of furniture design.
The Eames studio has maintained a close partnership with Herman Miller, who has played a significant role in promoting the legend products of Eames. However, strictly speaking, Eames cannot be easily defined as an ordinary commercial brand. Extending the legacy of the late Eames couple's designs from 50 years ago is not a easy task. Therefore, Eames studio established the Eames Foundation, dedicated to compiling publications, organizing lectures and discussions, and striving to promote and carry forward the design philosophy of the Eames couple. The aim is to enable more people worldwide to understand the spirit of Eames, to never forget to explore the origins of needs, and to use design as a means to improve human life.
Honors and Awards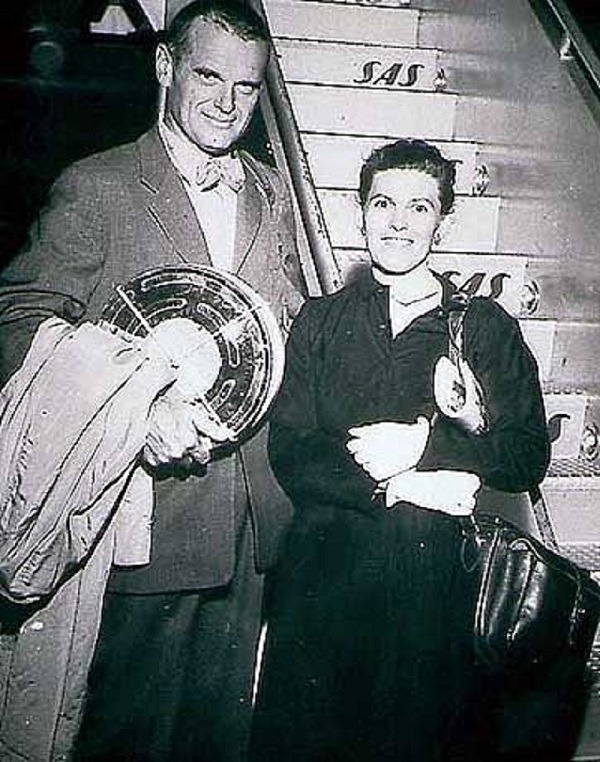 1940: Participated in the furniture system competition held by the Museum of Modern Art
1960: "The Fabulous Fifties" won an Emmy Award (image)
1961: Awarded the Kaufmann International Design Award
1977: Received the 25th Anniversary Award from the American Institute of Architects
1971: Awarded the title of Eliot Norton Chair of Poetry at Harvard
1979: Received the Royal Architectural Gold Medal
1985: Recognized as the "Most Influential Designer of the 20th Century" by WORLDESIGN
1985: Joined the American Industrial Designers Society
1999: The Library of Congress Traveling Exhibition publicly showcased the design works of Charles and Ray Eames – "A Legacy of Invention."
The magic of Eames lounge chair
This lounge chair, which has been included in the permanent collections of over 20 museums including MOMA (Museum of Modern Art) and is regarded as a symbol of modern American design, has a mysterious charm that successfully attracts the attention of people for more than 60 years.
The adventurous Eames couple carefully calculated the sitting posture of each individual. The chair features a support structure made of die-cast aluminum with a five-pointed star base, and the molded bent plywood is composed of seven layers of laminated wood, with the inner and outer sides covered in rosewood, cherry, or walnut veneer.
This design gives the chair a robust and natural appearance on both the backrest and the bottom. The comfortable leather cushions on the armrests, seat, and backrest greatly alleviate fatigue for those who sit on it.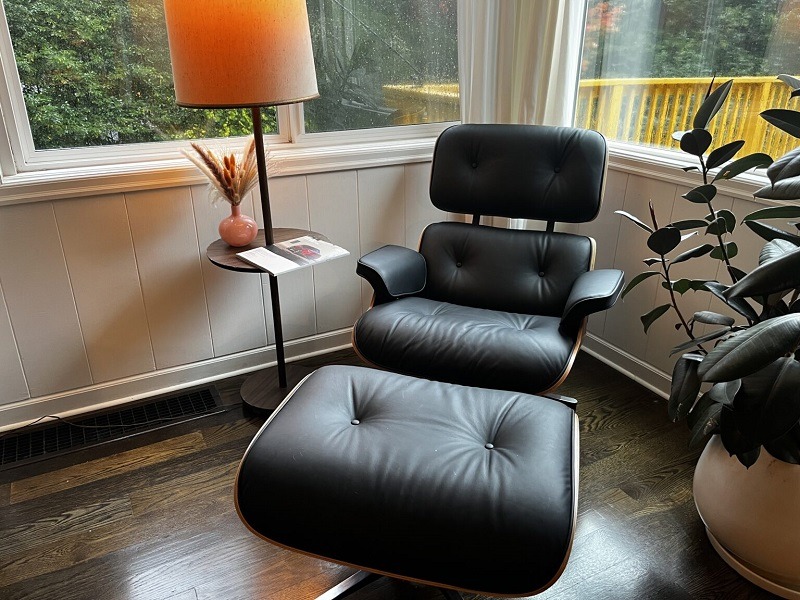 Just from the Eames lounge chair, we can see the genius of Eames couple in the industrial design field. They incorporate the most advanced materials and craftsmanship of that time, resulting in a vintage fashionable appearance and a luxurious & comfortable experience.
This lounge chair set is composed of standardized components, combined with minimal handmade details such as stitching and polishing, which allows for rapid mass production while faithfully presenting the original design by the couple.
In the initial vision of  Eames couple, this chair and ottoman set should be "as comfortable and practical as a baseball glove," like a refuge from fatigue that helps oneself and his/her friends relieve the pressures of everyday life.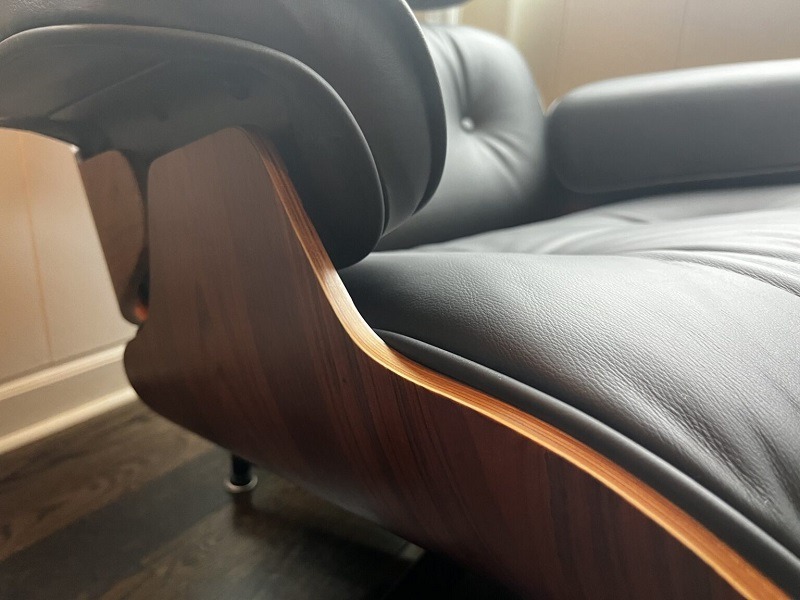 In the end, the spacious and enveloping feeling of this lounge chair, along with its soft and comfortable sensation, is comparable to that of a baseball glove. The perfectly angled backrest at 15° automatically adapts to different weights, pressures, and sitting positions, adjusting to the most suitable angle and satisfy those who sit on it.
Eames lounge chair adopts a large and luxurious appearance, using a distinctive "three-piece design" of headrest-backrest-seat instead of a challenging monolithic structure. This decomposition design makes the manufacturing process significantly easier.
The choice of materials and design for this lounge chair is also ingenious. The outer layer features a three-dimensional curved shell, which is the result of their years of research in the technique of hot-bending plywood. The delicate and prominent wood grain preserves the natural traces of the wood's growth, resulting in a beautiful and timeless look.
On the inside, high-quality soft cowhide covers resilient foam, and buttons create a full radiating texture, this small detail that add to the chair's charm.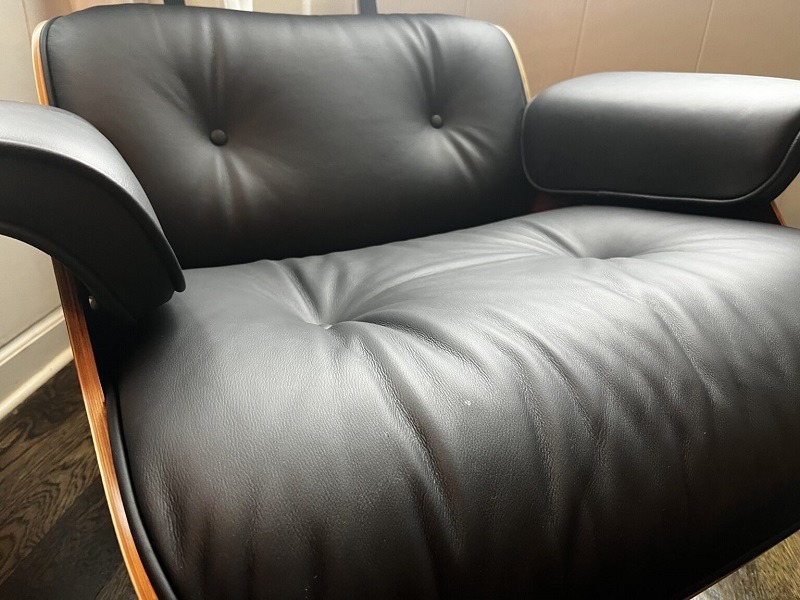 The design of four-star aluminum base (for ottoman) and five-star aluminum base (for chair), which was used even earlier than the Egg Chair (1958), allows people to enjoy an unprecedented level of comfort whether they are twisting and turning in conversation or reclining for long periods while watching a movie.
It is said that Charles once invited film producer Julian Blaustein to sit in this experimental lounge chair in his office and read a script. When Charles returned, Julian was already asleep – a direct testament to the comfort of this chair!
This kind of comfort is the magic of Eames lounge chair. Even after more than 60 years since the birth of Eames lounge chair, this kind of comfort is still highly sought-after.
Authentic Eames Lounge Chair
Authentic Eames chair that we currently see is produced under authorization by two companies, Herman Miller in the United States and Vitra in Switzerland. Both of their production factories are located in China, but their factories do not sell directly to the public.
Both companies went through great efforts to acquire the rights to produce this Eames chair, and in order to differentiate themselves, Vitra made subtle design changes. It is subjective as to which version looks better, as it depends on personal aesthetics. Europeans tend to prefer Vitra, while North Americans have a preference for Herman Miller.
Vitra is the sole authorized supplier of Eames Lounge Chair for Europe and the Middle East markets ; Herman Miller is responsible for all other markets in the world, including North America, South America, Oceania, Asia and Africa.
Any Eames lounge chair purchased from sources other than Herman Miller and Vitra is considered a replica. These replicas are based on the designs of these two companies, with some using the Vitra version base and others using the Herman Miller base.
Herman Miller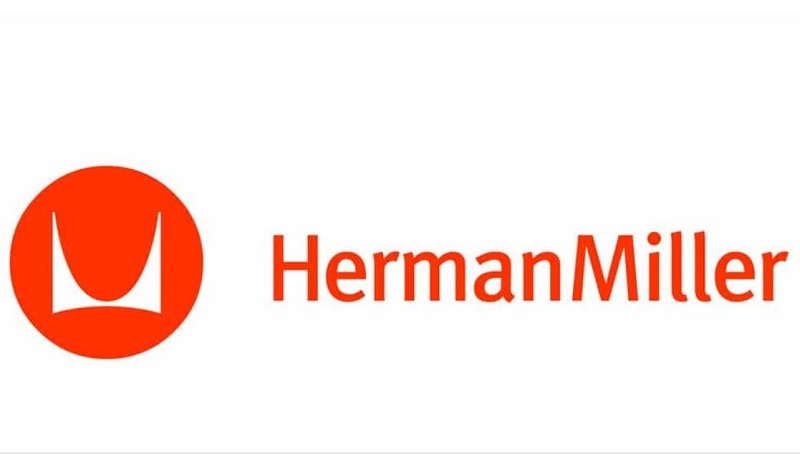 Official Herman Miller website link for Eames Lounge Chair: https://store.hermanmiller.com/living-room-furniture-lounge-chairs-ottomans/eames-lounge-chair-and-ottoman/5667.html?lang=en_US&sku=100195509
Herman Miller Eames Lounge Chair Prices
Herman Miller Eames Lounge Chair price: 7,995 USD for Standard version and 8,495 USD for tall version (Sep 2023). This company was founded in 1923 (100-year company), now it is one of the leading furniture manufacturers and interior design companies in the United States. Herman Miller is also the sole authorized dealer of Eames furniture in the Americas, Asia-Pacific, and Africa market. The Eames Lounge Chair is one of their few reclining chairs, and their main focus is on ergonomic office chairs.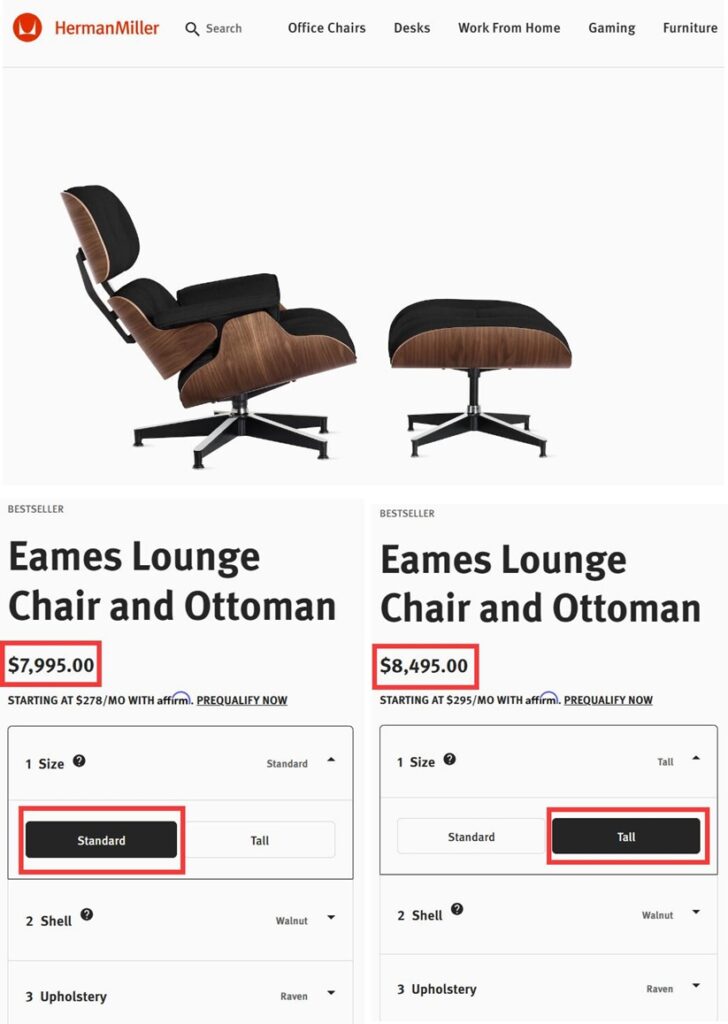 In 1976, Herman Miller produced the Ergon chair, integrating ergonomics into office chair design. In 1984, the Equa chair further applied ergonomics to office chair design. In 1994, Herman Miller achieved a breakthrough in chair design by innovatively creating the Aeron mesh chair. It received the Ergonomics Excellence Award from the European Furniture Industry Research Association (FIRA), the highest award in European human environment improvement studies. This Aeron chair is permanently displayed in the Museum of Modern Art in New York.
Why tall Eames Lounge Chair?
There was no tall Eames lounge chair when Eames couple designed this iconic chair, it is exclusively developed by Herman Miller in recent years.
As the average height of people worldwide has been increasing, some users may feel that regular Eames lounge chair is relatively short. To provide a better customer experience, Herman Miller created tall Eames lounge chair, which is suitable for people taller than 5'4″(180cm). You can check below standard VS Tall Eames Lounge Chair video.
Tall Eames lounge chair is 500 dollars more expensive than standard version. If you are taller than 5'4″(180cm), and you feel comfortable with standard Eames lounge chair, then there is no need to spend 500 dollars more to buy tall version.
Herman Miller Eames Lounge Chair Sizes
There are two versions Eames chair in Herman Miller: Classic and Tall, and their sizes are slightly different (Ottoman sizes are the same).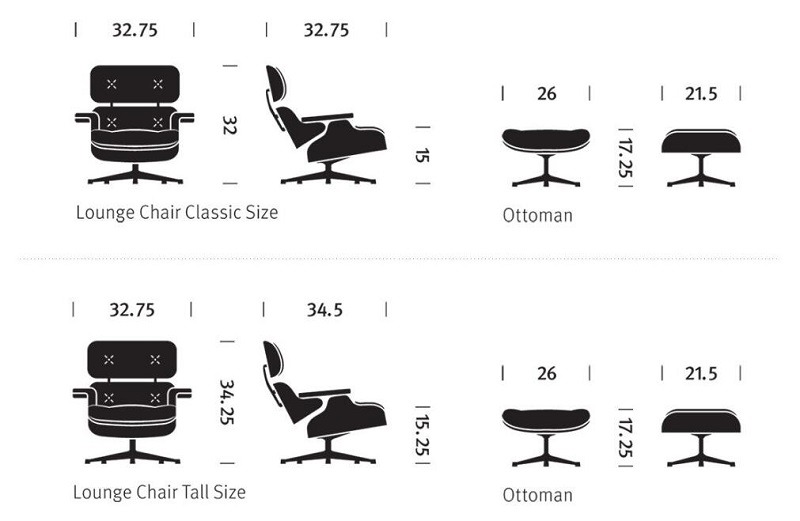 Classic (standard) size:
Height: 32″ (813mm)
Width: 32.75″ (831mm)
Depth: 32.75″ (831mm)
Seat Height: 15″ (381mm)
Seat Depth: 20.75″(527mm)
Tall size:
Height: 34.25″ (870mm)

Width: 32.75″ (831mm)

Depth: 34.5″ (876mm)

Seat Height: 15.25″ (387mm)

Seat Depth: 20.75″(527m)
Herman Miller Eames Lounge Chair Shell
Herman Miller uses 7 veneers for the Eames chair shell now.
Ebony Ash: The darkest shell, the Ebony Ash has a smooth veneer and subtle grain pattern, letting its depth, rich luster, and shine be its defining assets. Sustainably stained, it pairs well with any upholstery, whether you're creating contrast or a monochromatic look.
Oiled Walnut: The Oiled Walnut, finished to highlight its natural depth and luster, has classic notes of caramel and coffee in its tight grain. Known for its durability and timeless beauty, it's particularly popular with richer and darker upholstery options.
Palisander: Palisander is a dynamic veneer made of Brazilian Rosewood, featuring a dramatic and detailed grain. It contains a kaleidoscope of complementary hues ranging from light caramel to espresso—perfect for adding a rich detail to your space.
Walnut: Complex, warm, and deep, Walnut is beloved for its golden finish, composed of complementary honey and chocolate colors. Ideal for dark spaces and upholstery, the beautifully detailed grain adds visual interest and a natural glow.
White Ash: With its simple and understated look, the versatile White Ash plays well in any space. The bright wood veneer contains hints of caramel and gray in the grain for an overall refreshing, cool, and eye-catching cream.
White Oak: Ranging from cream to wheat, White Oak is strong and durable wood that still looks delicate. With a consistent color and loose grain, it can instantly brighten a space or contrast beautifully with darker tones.
Oiled Palisander: Oiled to bring out the dramatic characteristics of the Brazilian Rosewood, while still presenting as a natural and drier shell, the Oiled Palisander accentuates a honey and warm brown grain. With a contrast of light and deeper tones, it brings depth to any space or upholstery options.
Herman Miller Eames Lounge Chair upholstery
These common materials are used for Herman Miller Eames Lounge Chair upholstery, they are all FR free with CAL 117-2013 standard flammability.
All grain leather: All Grain is a premium leather from U.S. producer Edelman Leather. It features a supple and soft texture yet is durable enough for demanding use. The surface bears a small pebble-grain texture and receives a special stain-release coating. All Grain is Greenguard air-quality certified.
Checker: Go bold with Checker, a timeless patterned fabric designed by textile master Alexander Girard. Available in a range of colorways, it's the perfect pop to add visual interest to furniture or pillows. Plus, it's recognized as a Greenguard Gold Certified upholstery for its sustainability.
MCL Leather: MCL is a premium leather with 100% natural grain, which will acquire a rich patina over time. Color variations and surface marks are an inherent characteristic of this style of leather. A surface finish contributes to very high durability.
Mohair Supreme: Sink into the sumptuous comfort of the Maharam Mohair Supreme. Made purely of mohair, a highly coveted fiber collected from the Angora goat, this velvety upholstery is the ultimate distillation of simple luxury.
Vicenza Leather: Vicenza is a premium leather from U.S. producer Spinneybeck. It's dyed through for saturated color, retanned for a superior hand and lightly corrected for a consistent smooth grain. A breathable, heavy finish becomes an integral part of the leather, providing protection while keeping the surface cool to the touch.
Flamiber: An extraordinarily durable blend of nearly equal parts wool, cotton, and acrylic, Flamiber presents a modestly textured surface that is both pleasing in appearance and satisfying to the touch.
Prone Leather: Prone is a premium full-grain leather from Maharam, produced in a boutique tannery in Northern Italy. Prone is minimally finished to highlight the natural beauty of leather and the inherent quality of superior raw materials. The texture of the grain offers a supple hand, while a light silicone finish lends protection against wear. Prone is GREENGUARD Gold Certified.
2100 Series Leather: Looking for an artful balance between preserving the leather's natural grain and achieving a more consistent color? The best-selling 2100 Series Leather is the best of both worlds. This popular semi-aniline dyed leather is made to be loved and looks better and better as it wears with age.
Stow Leather: Stow is a premium full-grain leather from Maharam, produced in a boutique tannery in Northern Italy. To achieve its rich depth, Stow's small pebbled grain is "tipped" – a process by which darker dyes are added to the surface. A protective silicone topcoat lends added resilience and helps guard against staining. Stow is GREENGUARD Gold Certified.
Vitra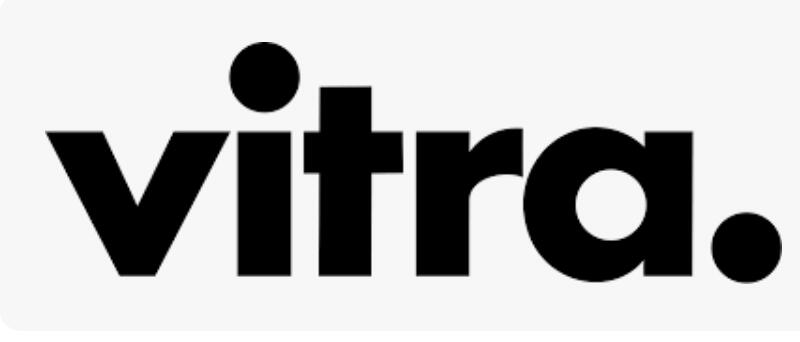 Official VITRA website link for Eames Lounge Chair: https://www.vitra.com/en-gb/product/lounge-chair
VITRA Eames Lounge Chair price: 10,020 GBP (about 12,428 USD in Sep 2023).  VITRA founder Willy Fehlbaum acquired a small design company in 1934 in Basel, Switzerland, marking the beginning of his furniture manufacturing journey. In 1950, Vitra established its first factory in Weil am Rhein, a small Germany town near Basel. Vitra has gathered numerous renowned designers, including Eames couple, Verner Panton, George Nelson, and Sori Yanagi. In the hearts of many furniture enthusiasts, Vitra is considered a classic representation and ranks among the top choices for collectors.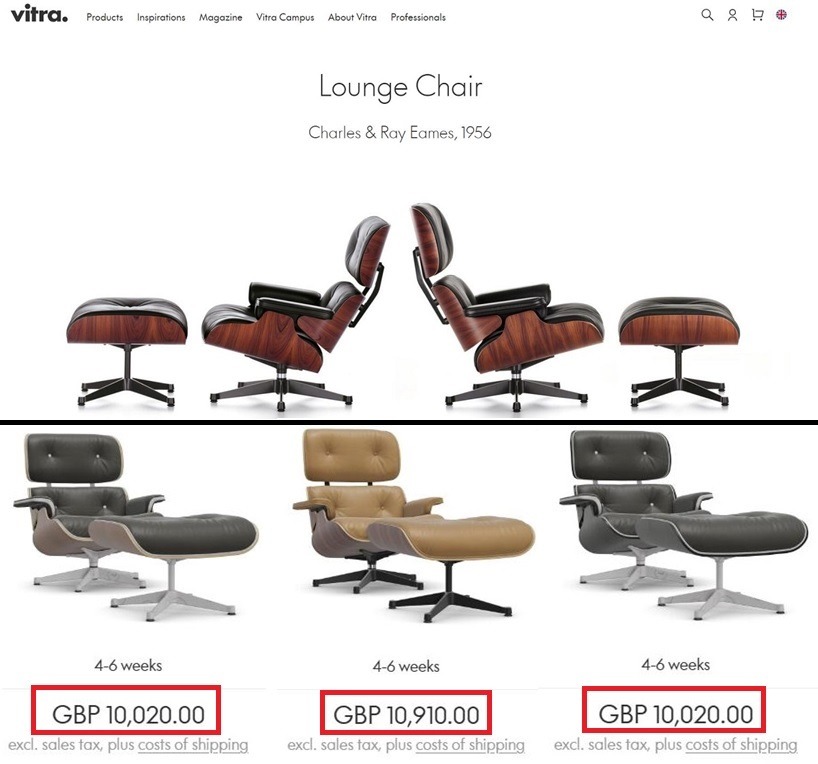 3 Versions of Vitra Eames Lounge Chair
1. Lounge Chair (classic version)
The classic version of the Eames Lounge Chair offers a wide choice of options: various types of wood for the shells, a selection of fabrics, leather grades and colours, and several surface finishes for the base. If the Lounge Chair is ordered together with the Ottoman, the grain on the wooden shells of both pieces will be matched during the production process; this is not possible if they are ordered separately.
2. Lounge Chair (white version)
Ever since it was first launched, the Lounge Chair has been manufactured in different variations. Although there was a recurrent demand for a version with white upholstery, white models were only produced infrequently as special editions.
The new interpretation of this classic armchair in a light, graceful version was developed by Vitra in collaboration with the Eames Office and Dutch designer Hella Jongerius. All of the chair's components are coordinated, from the zipper fasteners to the backrest spacers to the glides on the base. The leather cushions fi t snugly into shells of walnut veneer with a light-coloured stain; the aluminium base and back braces have a polished finish.
3. Lounge Chair (black version)
'What I really want is a black with feeling.' – Charles Eames
All elements of the black Lounge Chair – ash shells and aluminium components – are completely finished in black, lending an air of dignified refinement to this version of the legendary armchair.

Vitra Eames Lounge Chair Materials
Seat and back: moulded plywood, different face veneers. Classic version in American cherry (USA), santos palisander (Bolivia; certified sustainability) or black-pigmented walnut (USA). White version: white-pigmented walnut (USA). Black version: ash with a black lacquer finish (Germany).
Upholstery/Cover: removable cushion, removable covers in leather or fabric.
Armrests: padded, removable covers in leather or fabric. Attached to the seat and back shells with shock mounts (bonded rubber and metal connectors).
Base: five-star swivel base or four-star non-swivel base (Ottoman). Both base and back braces in die-cast aluminium.
Glides: all bases fitted with hard glides for carpet; felt glides optionally available for hard floors.
Vitra Eames Lounge Chair Dimensions
There was only classic Eames lounge chair for sale in Vitra for many years, and Vitra developed a large version as new model several years ago, ottoman is the same dimension as classic version.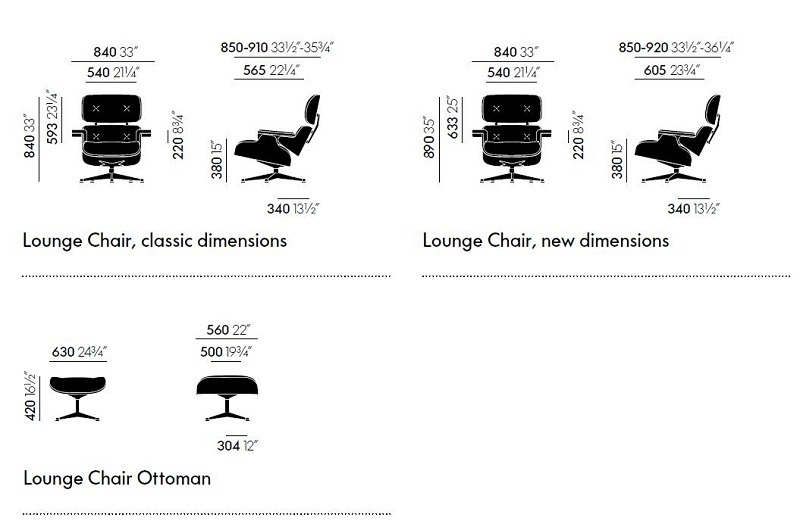 Vitra classic version dimensions
Height: 840mm (33″)
Width: 840mm (33″)
Depth: 850mm (33.5″)
Seat Height: 380mm (15″)
Seat Depth: 565mm (22.25″)
Vitra large version dimensions
Height: 890mm (35″)

Width: 840mm (33″)
Depth: 850mm (33.5″)
Seat Height: 380mm (15″)

Seat Depth: 605mm (23.75″)
Herman Miller VS Vitra
Eames lounge chairs from Herman Miller and Vitra appear very similar to each other. However, there are differences between them.
Difference 1: Sizes (Dimensions)
Herman Miller has standard and tall Eames lounge chairs, Vitra has classic and large Eames lounge chairs, these 4 models has slight difference in sizes or dimensions, you can check the details in our previous introduction.
Difference 2: Base
Herman Miller Eames lounge chair is black-painted aluminum five-star base with small glides, but Vitra uses silver polished cylindrical head aluminum glides, you can check this difference in below picture.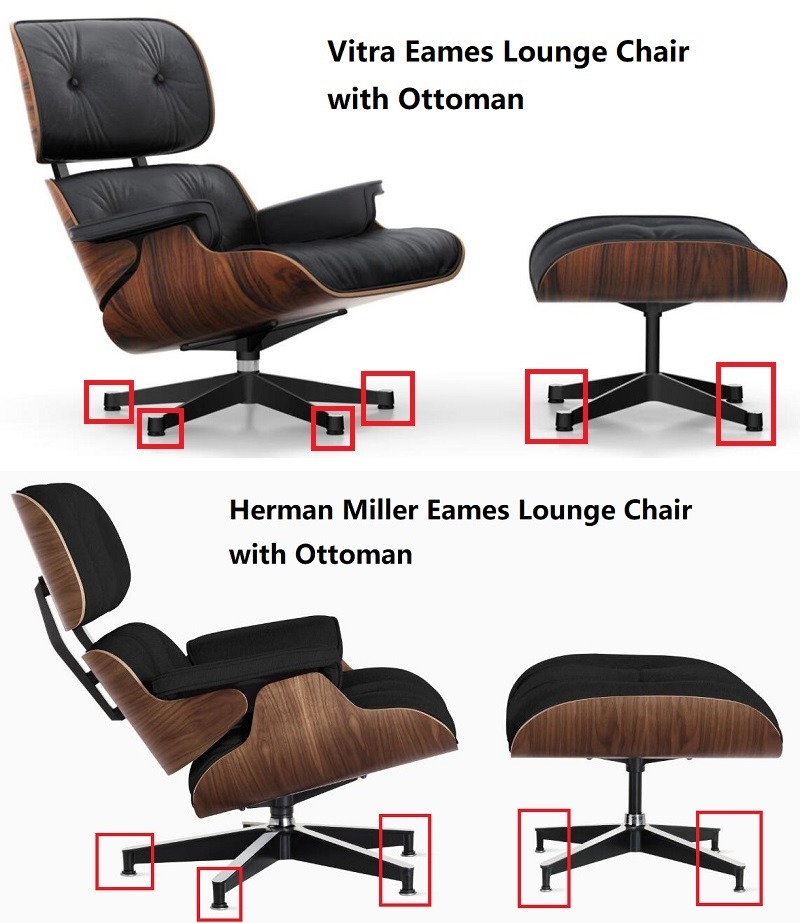 Difference 3: Prices
As of September 2023, the retail price of Standard Herman Miller Eames lounge chair is USD7,995.00, it is expensive, but the retail price of Classic Vitra Miller Eames lounge chair is GBP 10,020.00 (about USD 12,280.00), which is 53% more expensive than Herman Miller.
Difference 4: Influence
Furniture market in North America is much bigger than it is in Europe, and Herman Miller Eames lounge chair is much cheaper than Vitra's, so Herman Miller sales is much higher than Vitra, and it has also made great effort to develop other markets such as Asia and Oceania in recent years, so Herman Miller Eames lounge chair with ottoman are more popular around the world.
Original Eames lounge chair
When it comes to Eames Lounge Chair, Herman Miller and Vitra are only authorized companies. The original Eames Lounge Chair, which was personally designed and crafted by the Eames couple, exists in only a dozen sets. These original design Eames lounge chairs are almost impossible to find on the market as they are held by a very small number of collectors and museums. These few Eames Lounge Chairs do not depreciate over time; rather, they become more valuable due to their rarity. Their value increases with age, partially due to the way they were made.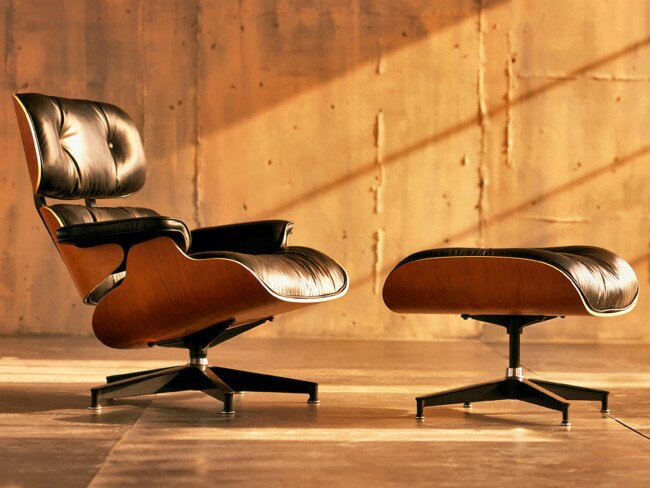 Over time, the cushions of the chair can maintain their shape. As Charles Eames described it, "The leather cushions do have built-in wrinkles from the first moment you sit on them, but that's the warmth and informality that makes them so comfortable." These Eames Lounge Chairs are truly symbols of wealth and power. While the term "symbol" has been overused, it is indeed the most appropriate word to describe Eames Lounge Chair.
Under the continuous speculation in the capital market and the original fame and influence of this lounge chair set, the price of Eames lounge chair has been constantly rising. Currently, the price of standard Herman Miller Eames Lounge Chair is close to USD 8,000, and Vitra version is more than GBP 10,000, which makes it relatively expensive for the average household. As a result, it deviates from the original design intention of Eames couple, which was to create an affordable, comfortable and mass-produced lounge chair using inexpensive materials for the general public.
Features of Eames Lounge Chair (KEY PART)
Whether it is produced by Herman Miller, Vitra, or Eames couple themselves, the Eames Lounge Chair shares consistent characteristics. The purpose is to provide comfort and relaxation to the body. This lounge chair and ottoman are both hand-assembled, with a focus on details. The shell is made of 7-layers bent plywood, and all cushions are individually arranged and replaceable. The backrest support and base are made of die-cast aluminum. The seat base features an integrated swivel mechanism, and the shock absorbers are made of natural rubber. This lounge chair also comes with adjustable stainless steel glides.
Upholstery must be aesthetically pleasing, fluffy, and full. It should have a radiating sense of wrinkles. Currently, most Eames lounge chair replica/reproduction products are unable to achieve natural wrinkles, which is an important indicator of quality. Wrinkles are natural textures, and as long as the sponge filling inside is plump and soft, the wrinkles will appear naturally, giving a slightly fluffy feeling.
The original design intention of Eames Lounge Chair has an important aspect: user-friendliness. It allows users to replace individual damaged components without having to replace the entire lounge chair for just one cushion or backrest. Therefore, Eames couple designed detachable upholstery, which not only incorporates mechanical principles but also provides convenience for users.
Both Herman Miller and Vitra use Aniline leather for Eames Lounge Chair, which creates a desirable wrinkled effect.
There is double-sided veneer on bent plywood shell. Why is wood veneer used both internally and externally? It is because the interior is fitted with removable cushion padding. Applying wood veneer to the interior ensures a smooth surface and prevents any damage when removing the cushions. If the interior were not covered with wood veneer, it would be easy to scratch the soft material when disassembling.
The 103° angle of the chair is not only ergonomically designed but also crucial for the well-being of the human body. For households with active and playful babies or young children who enjoy climbing onto chairs, there is no need to worry about the chair tipping over.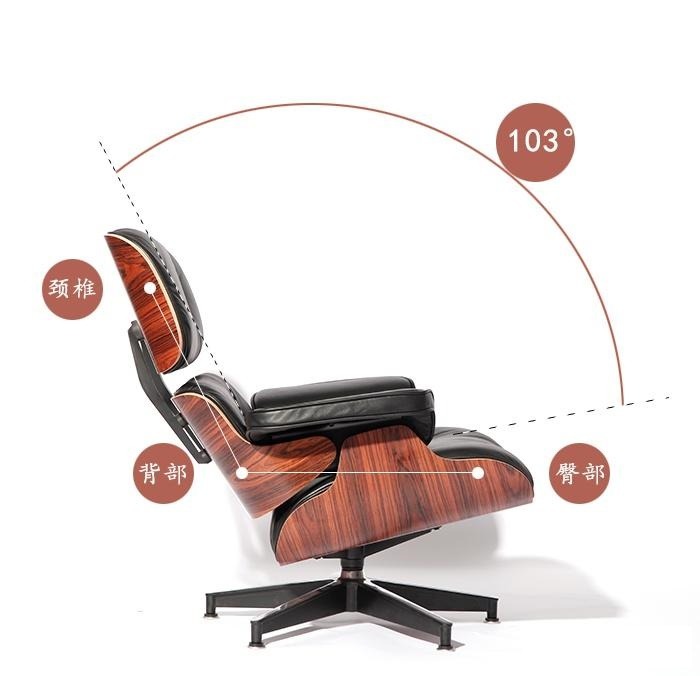 The ottoman, or footrest, of the chair is designed for relaxation purposes. If you only purchase the chair without ottoman, it would significantly compromise the intended experience. Therefore, I would advise against buying just the chair.
Eames lounge chair China manufacturers
All official Eames Lounge Chairs are manufactured in China because both Herman Miller and Vitra have contract furniture manufacturers located in Dongguan, China. These two factories have been involved in OEM furniture production from 20 years ago, but they can't openly sell Herman Miller and Vitra products according to the contract. At that time, only a few China furniture factories were able to produce Eames lounge chair, and what they made had differences from the original version.
With China's accession to the WTO and increasing international trade & cultural exchanges, many furniture wholesalers and retailers come to China to find Eames lounge chair suppliers, more and more Chinese people became aware of this classic lounge chair. However, due to its high price, some customers and buyers could not afford the original version from Herman Miller and Vitra. As a result, more and more furniture factories in Guangzhou and surrounding cities such as Foshan, Dongguan, and Shenzhen started producing Eames Lounge Chair  replica. These factories not only cater to the China domestic market but also sell their replica versions worldwide. We are one of those Eames Lounge Chair reproduction factories.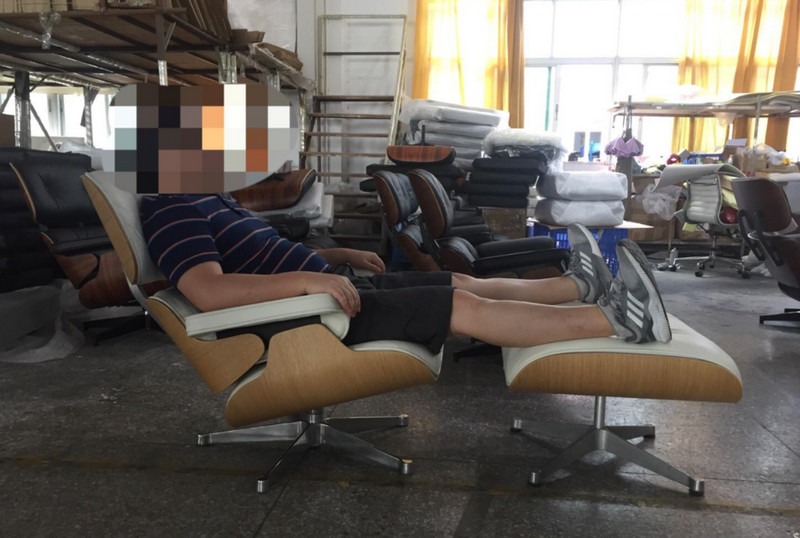 Why import from China?
There are several reasons for importing classic designer furniture replica or reproduction from China.
1. Affordability
The main reason for importing Eames Lounge Chairs from China is cheap. As of September 2023, the price of standard Eames Lounge Chair is $7,995 on Herman Miller website, and tall version retails for $8,495. The price of Vitra Eames Lounge Chair is £10,020 ($12,488). These prices do not include shipping and are quite expensive. On the other hand, buying cheap Eames Lounge Chair with ottoman from our China factory, only cost under $2,000 per set, including air transportation to most countries and regions worldwide.
2. Availability
The second reason is the variety of choices. There are many replica furniture suppliers in China, and you can find Eames Lounge Chairs made from different materials, with different qualities and prices. It depends on your specific needs in terms of materials, chair frame, and your budget.
Most China replica furniture manufacturers do not have MOQ (Minimum Order Quantity) restriction, you can find suitable supplier in China even if you only need one set Eames Lounge Chair for your home or office.
3. Business
Eames lounge chair and other classic designer furniture would never go out of date, nowadays more and more people choose to open furniture store or e-commerce site to resell or distribute replica furniture, they usually need large quantity Eames lounge chairs in this business model, but the price of original Eames lounge chair is high, and you can't get a large discount from Herman Miller or Vitra even you buy in bulk.
Then you can consider to import Eames lounge chair from China under the circumstances. If you accept normal quality Eames Lounge Chair replica, then buy this lounge chair in bulk for wholesale or retail and ship it in containers by sea, the price can be as low as $500 or less per set, very profitable.
Disadvantages of replica furniture from China
Of course, there are disadvantages when importing Eames lounge chair from China.
1. Complicated procedures
Importing furniture from China is complicated and takes a long time, you can refer to our article on how to import furniture from China for more detailed information. We have been exporting furniture in China for many years and will do our best to assist customers in minimizing unnecessary troubles.
However, if you simply buy one Eames Lounge Chair set from China and ship it through air transportation to your home or office, there won't be much trouble.
2. Scammers
There have always been scammers in China export & import business, not only in furniture industry, but also in many other industries, so you must be careful to choose suppliers if you are importing from China for the first time.
The most common method used by scammers is low prices. They may "sell" Eames lounge chair with price $100, will you send money to this "supplier" to buy this cheap lounge chair? We will write an article on how to prevent scammers.
3. MOQ restriction
Some China replica furniture manufacturers may have minimum order quantity (MOQ) requirements, such as requiring at least a 20GP container quantity (approximately 45 sets of Eames Lounge Chairs with ottomans). This is more suitable for wholesalers and retailers importing in large quantities. However, we do not have any quantity restrictions and welcome orders of any quantity, even only one set.
4. Potential legal issues
Some countries have strict laws and regulations concerning the importation and sale of replica furniture. Importing replicas from China could expose individuals to legal risks, including potential lawsuits or confiscation of the replicas.
Usually there is no legal issues if you only buy one set Eames lounge chair from China, but you must be cautious if you want to sell replica furniture to local market. It is best to consult a professional lawyer before starting this business in your country or region.
5. Quality
The Eames Lounge Chair replica market has undergone changes over the years in China. There are more and more China furniture factories manufacturing this lounge chair now , leading to increased competition. The Eames lounge chair quality and prices in the China furniture market can vary greatly. To identify different qualities of Eames Lounge Chairs, you need to understand the materials used in this lounge chair first.
Eames Lounge Chair Materials
The main materials used in various versions of Eames Lounge Chair are genuine leather, faux leather, fabric, foam, bentwood, wood veneer, and metal aluminum legs.
Aniline Leather
Aniline Leather is a high-quality top-grain cowhide and the most commonly used leather in original Eames lounge chair. Its surface is lightly sanded and coated, with textures created through drum tumbling. This type of leather has a thin coating, is durable, stretchable, and offers a good visual, tactile, and comfortable experience. It is considered a high-grade leather, albeit expensive. The leather is smooth and provides warmth in winter and coolness in summer, making it one of the higher-end leather options for sofas and chairs.
Napa Leather
Napa Leather, originally developed by the Sawyer Tanning Co. located in Napa County, California, USA, is made from full-grain calf leather tanned with vegetable extracts and alum salt. It is not embossed and has minimal or slight modifications to maintain its natural texture. The surface coating is very thin, preserving the natural feel of the leather to the maximum extent. Napa leather is often plain-grained, so it is normal not to see visible textures on Napa leather.
There are various types of Napa leather in the market, mainly differing in the quality of the hide and the tanning process. Apart from a few luxury brands in Italy that can guarantee the use of full-grain calf leather, most other factories cannot match that level. The Napa leather produced in China can be considered imitation Napa leather, and the quality is generally inferior to that of Aniline leather, but it is relatively cheaper.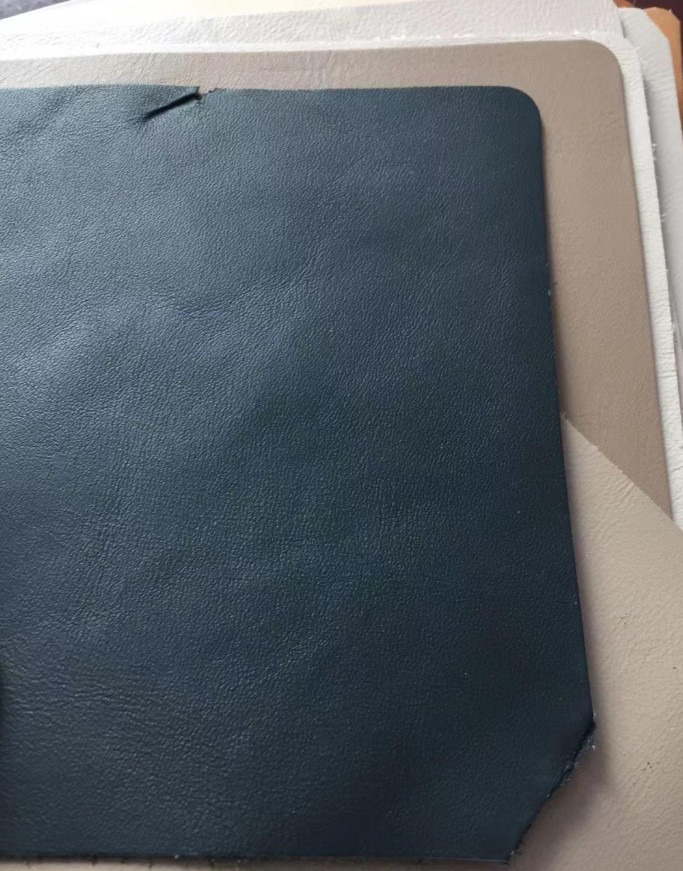 We use imported top-grain cowhide from Italy to make high quality Eames Lounge replica. This type of leather is natural, breathable, has a smooth texture, and feels very comfortable to touch. It also has a certain level of elasticity and, most importantly, it is durable. Compared to microfiber leather or PU leather, cowhide has better abrasion resistance and a longer lifespan. While faux leather typically lasts around three to five years, genuine leather can last over ten years without any issues. The selection of leather hide and subsequent manufacturing processes are all carried out in Italian factories before being transported to China. Every leather scar and pore goes through strict selection and filtering processes.
Oil Waxed Leather
Oil waxed leather, in simple terms, refers to processed cowhide that has been polished, oiled, and waxed to create a unique glossy finish. Oil waxed leather has strong water and oil absorption properties, so if it comes into contact with water or oil, the color of oiled wax leather surface will darken, giving it a vintage feel.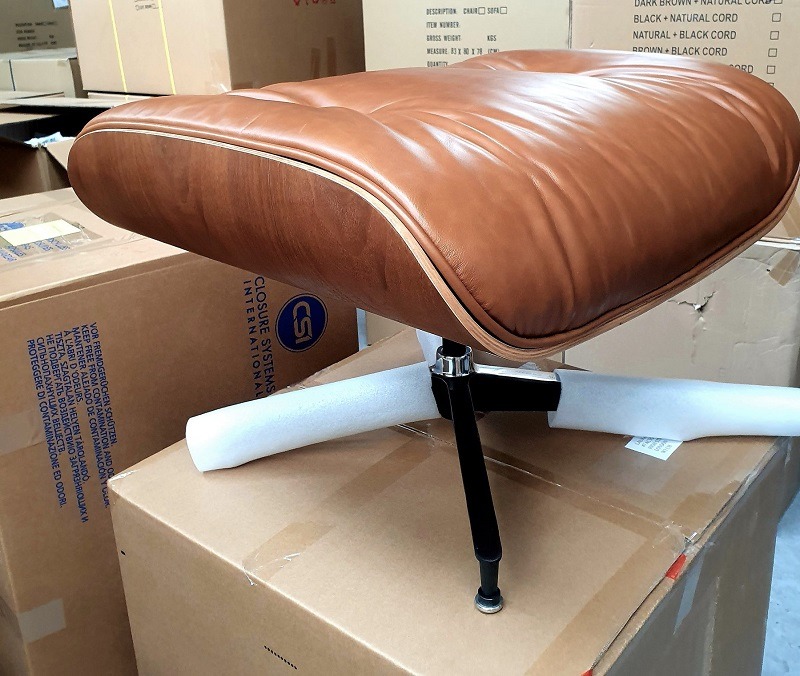 However, it has a slightly harder texture, and the resulting texture of the Eames Lounge Chair made from oil waxed leather is not as good as that of aniline leather or Napa leather. We only occasionally have customers requesting the oil waxed leather version Eames Lounge Chair.
Microfiber Leather (Faux Leather)
Microfiber Leather (Faux Leather), also known as synthetic leather, has lower abrasion resistance and a shorter lifespan compared to genuine leather, typically lasting around three to five years. However, the cost of microfiber leather is much lower than genuine leather, allowing for a significantly cheaper price for the Eames Lounge Chair reproduction.
Microfiber leather also offers a wide range of color options. With minimal regular use and proper maintenance, the lifespan of microfiber leather can be extended. Therefore, there are some customers who order microfiber leather Eames Lounge Chair from China.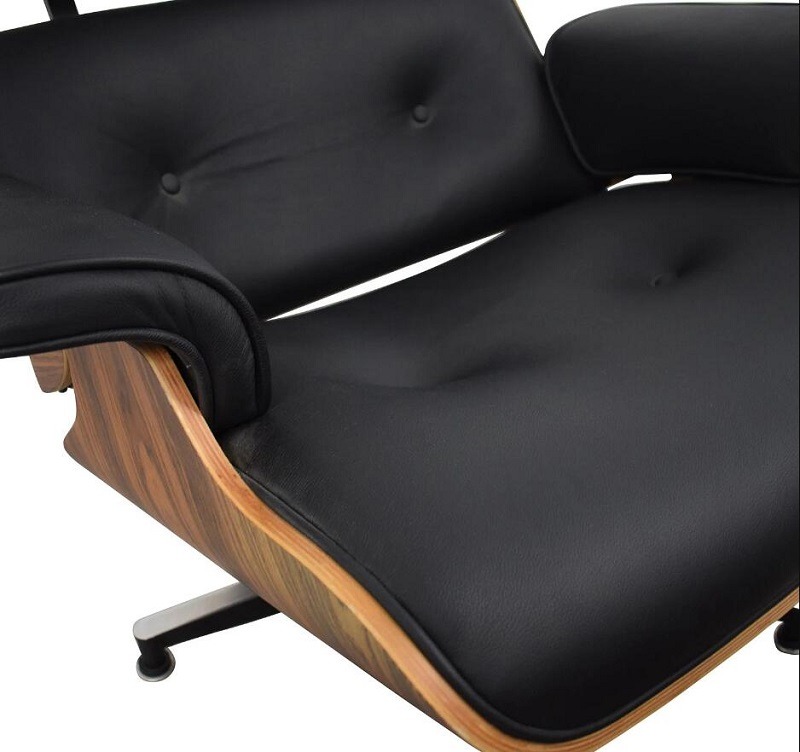 Additionally, there is another type of faux leather called PU leather. Its quality is not as good as microfiber leather, and it is more prone to damage. PU leather is often used in non-contact areas with the human body, so we try to avoid using PU leather for Eames Lounge Chair.
Fabric
We also encounter customers who need Eames Lounge Chairs with fabric materials. These buyers often have a preference for fabric or cannot tolerate the special leather odor. The cost of using fabric is similar to that of faux leather, and there are also a wide range of color and pattern options available.
We can also use fire-resistant fabrics that meet either British (BS7176) or American (CA-117) standards based on customer requirements. Regular fabric is not as durable as cowhide and is not as easy to clean. However, in recent years, a new type of fabric known as " leathaire" (tech cloth) has emerged. It has better durability than regular fabric and also has waterproof functionality, some good quality leathaire are durable as microfiber leather. So, some customers choose to use this new tech cloth for their Eames Lounge Chair orders.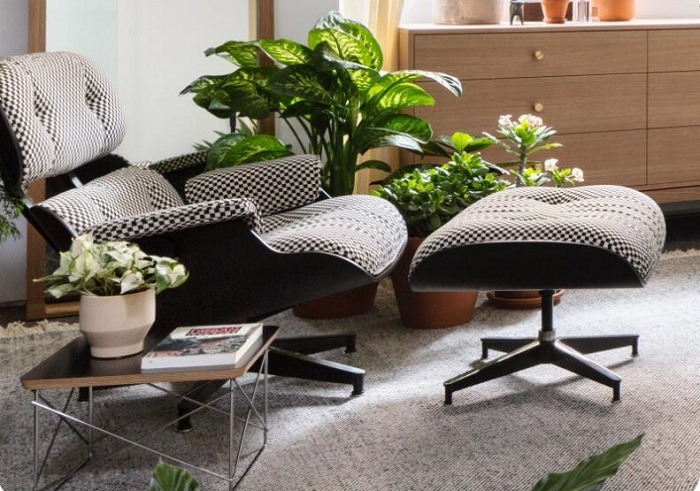 Foam
Currently, there are generally two types of foam used in the market for Eames Lounge Chair with ottoman: high-resilience foam or latex foam.
High-resilience foam
In the early stages of original Eames Lounge Chair manufacturing, high-resilience foam was used as latex foam was not available at that time. Additionally, the cost of using high-resilience foam is slightly lower than latex foam, so some customers specifically request high-resilience foam when placing their orders for Eames lounge chair, it is cheaper and more classic.
Latex foam
Nowadays, we use latex foam to make this lounge chair in most cases. This type of foam was initially used in memory pillows. Latex foam has several advantages over regular foam.
Firstly, it has excellent resilience. When you sit on a cushion filled with latex foam for a long time and then stand up, the cushion immediately returns to its original shape.
Secondly, latex foam provides better shaping capabilities, allowing the replica appearance to be identical to the authentic Eames Lounge Chair, with the desired fluffy and wrinkled feel on the upholstery.
Thirdly, and most importantly, it offers enhanced comfort because both the chair and ottoman cushions are filled with latex foam.
The disadvantage of using latex foam is that it is relatively more expensive compared to high-resilience foam. Additionally, some customers prefer to use high-resilience foam, emulating the early Eames Lounge Chair. We will list these options clearly before customers confirming their orders, allowing them to choose which type of foam they prefer.
Shell and Veneer
Shell determines the lifespan of Eames Lounge Chair. The original version is made by hot-pressing seven layers of veneered bent plywood (with a top-grade birch core) on both sides, making it both aesthetically pleasing and durable.
Eames Lounge Chair shell is formed by hot-pressing seven layers of curved wood panels, with a thickness of 10mm. Nowadays, many China classic designer furniture suppliers are making Eames Lounge Chairs with a bent plywood thickness exceeding 10mm, some even reaching 15mm. However, not all of them are made with genuine seven-layer curved plywood; some may have eight, nine, or ten layers.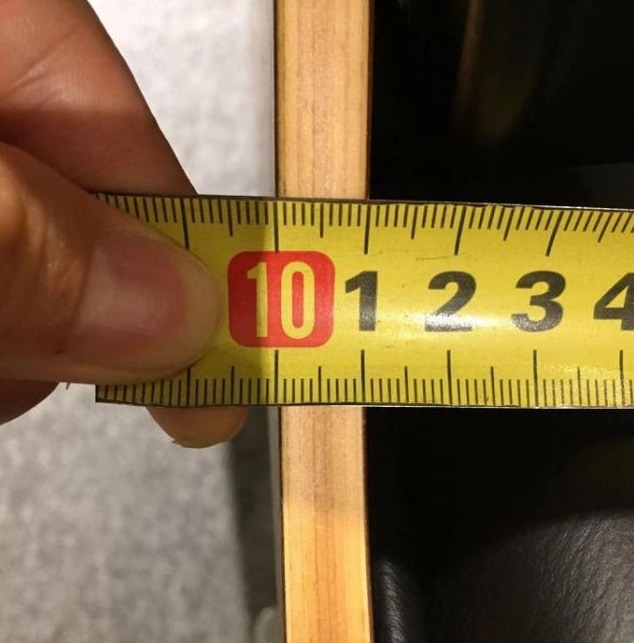 In order to achieve the same curvature as the original version while ensuring stability, we conducted hundreds of tests before finally producing a shell that is identical to the original Eames lounge chair.
Regarding the veneer, the original bent plywood also features natural wood grain on its inner side. Some cheaper replicas do not have veneer applied to the inner side.
For the outer surface, it is veneered on both sides. You may not be able to visually appreciate its effect directly, so we will provide a video demonstration for you.
Metal
The metal parts of Eames Lounge Chair mainly include the armrest connectors, shell connectors, and support base & legs. The original version uses lightweight and high-strength aluminum material. However, some cheaper replica or reproduction may use stainless steel or even iron.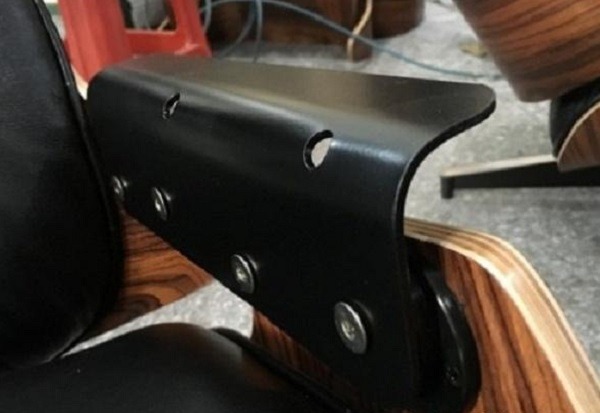 Currently, there are two types of metal legs used for Eames Lounge Chair on the market: one is the black aluminum legs of Herman Miller version, and the other is the cylindrical-headed aluminum legs of Vitra version. They may appear similar, but there is a slight difference between them. The black aluminum legs of Herman Miller version are more commonly seen in the market and are considered more classic & vintage.
Eames lounge chair replica from us
We have been manufacturing classic designer furniture since 2008, including the Eames Lounge Chair. However, there was still a certain gap in terms of quality compared to the original one. This is because we use commonly available materials in the China market, most of which do not meet the standards of original Eames lounge chair, and the proportions may also be slightly different.
Our main customers are furniture importers and wholesalers who have less demanding quality requirements and are more price-sensitive, we still produce inexpensive Eames Lounge Chair to meet their needs, because their orders are large in quantity. If you are interested in affordable Eames Lounge Chair, you can also contact us.
As our furniture export business continues to expand, we have attracted customers who have higher quality requirements but cannot afford the original Eames Lounge Chair. They contact us requesting replica or reproduction ones, primarily Herman Miller version, as the sales volume in North America is much higher than Vitra version in Europe.
In order to foster collaborations with these customers, we purchased some original classic furniture from the United States in 2012 and shipped them to China via container by sea. Herman Miller Eames Lounge Chair was in it.
Below images was taken when we received this lounge chair set, and everyone was filled with curiosity, eager to catch a glimpse of its appearance.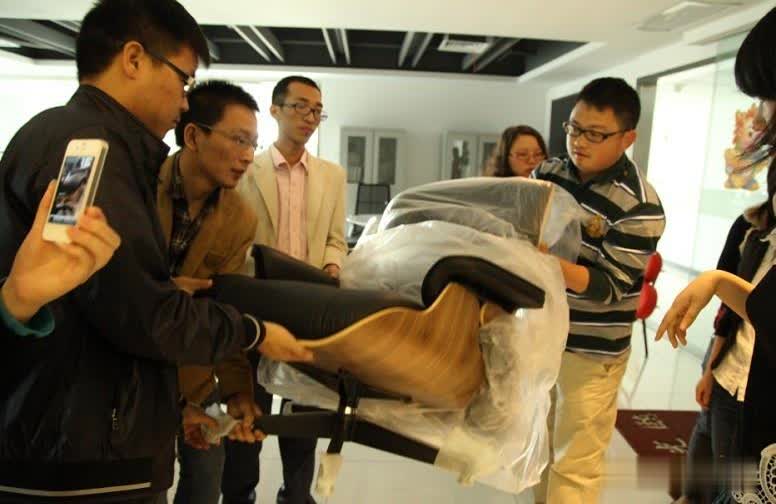 It took us ten months to successfully create a perfect replica. We devoted ourselves to continuous study, constantly improving the craftsmanship, and meticulously refining every detail. We invested a great deal of time, effort, and financial resources. The tooling costs alone amounted to nearly $100,000. However, the perfect presentation of final Eames lounge chair reproduction made us feel that all of these efforts were worthwhile. Now, let's take a look at what our Herman Miller Eames Lounge Chair replica looks like.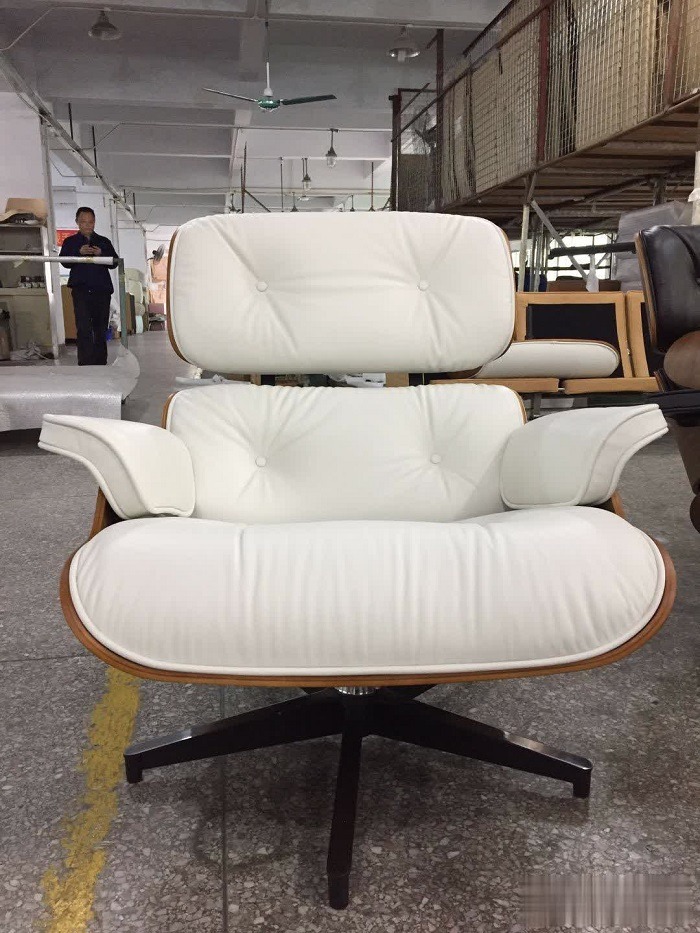 Materials we use
The original intention behind Eames Lounge Chair design by Charles and Ray Eames was to create a chair that is lightweight, durable, and affordable. Therefore, the original Eames Lounge Chair does not use solid wood for its shell but instead utilizes bent plywood, which is made by pressing seven layers of bentwood at high temperatures, then covered with natural-textured wood veneer on both inner and outer surfaces. This approach makes Eames Lounge Chair more environmentally friendly and lightweight.
The bent plywood we use is also made by pressing seven layers of bentwood, with a thickness of 10mm, just like the original version. Both the inner and outer surfaces are covered with natural-textured wood veneer (inexpensive version does not have veneer on the inner side). There are generally four types of wood veneer to choose from: walnut, acacia, cherry, and white oak veneer.
For the metal components (such as armrest connectors, bentwood connectors, and support legs), we use aluminum, which is lighter in weight and stronger in strength. In contrast, cheaper versions Eames Lounge Chair typically use stainless steel or iron for the metal components.
The leather we use for replica is same top-grain cowhide as the original Eames. Top-grain cowhide is softer and has a more supple texture compared to other types of leather. Some customers may request alternatives such as Nappa leather, oil wax leather, mirofiber leather, or fabric. However, using these alternatives would deviate from the original Eames Lounge Chair.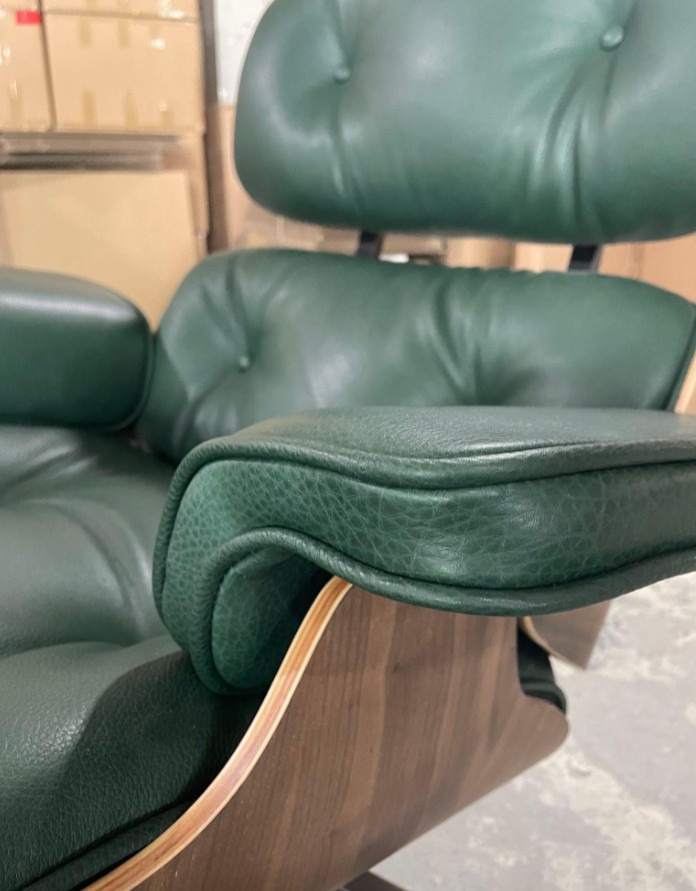 For the upholstery, we use high-resilience foam or latex foam inside. In order to achieve the desired resilience of the foam, we conducted extensive analysis with several foam factories. Eventually, we selected a very close alternative, which is PU molded foam (latex foam), and it has been used ever since. Recently, we have also developed a version with foam filling, which offers the same level of resilience and softness as the latex foam.
Knock-down structure
The original design of this chair is intended for all parts to be freely removable and reconfigurable. The cushions are hung on hooks fixed on the bent plywood, allowing them to be easily detached by pulling upwards with a little force.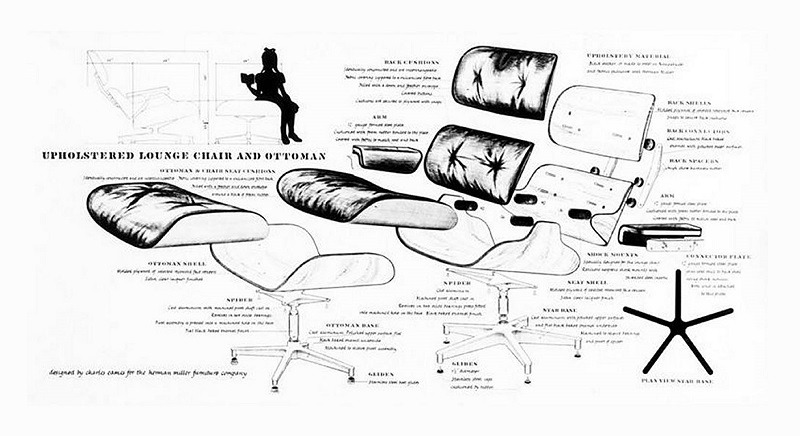 Why are the cushions designed to be removable? There are three main benefits:
Firstly, if any cushion gets damaged, it can be detached and replaced with a new one made by the manufacturer, which can be directly installed.
Secondly, it facilitates cleaning and maintenance.
Thirdly, it significantly reduces the packaging volume, making it easier for transportation and relocation.
The approach of making the chair components removable is very challenging, and many replica or reproduction cannot achieve this. Their cushions are usually non-removable, directly fixed and locked onto the backboard with screws.
This low-cost approach has some fatal defects:
Firstly, it is inconvenient for repairs. If one cushion gets damaged, the entire lounge chair is basically rendered unusable.
Secondly, for the cushions to have proper ventilation, holes need to be drilled through the backboard, which affects the aesthetics of the chair.
Additionally, the resilience of cushions is greatly compromised, affecting the sitting experience.
Therefore, we always make removable cushions for authentic Eames lounge chair replica, following the original design by Herman Miller or Vitra. However, we use the non-removable approach for cheaper versions, based on customers' requirements and budget.
Backrest and seat angle
Eames couple studied the sitting posture of each individual and created this ergonomically designed Eames lounge chair. Its seat and backrest form a 103° angle, which is almost the same angle as a baseball glove, and the seat is tilted at a 15° angle relative to the horizontal plane.
These two angles not only conform to ergonomics but are also crucial for human health. With the soft and comfortable cushions, sitting for long periods of time will not cause backache or discomfort.
Moreover, there is no need to worry about the chair tipping over when children climb and play on it. So our Eames lounge chair replica strictly adheres to these two angles in reproduction.
To provide a certain level of cushioning and avoid rigid when reclining the chair, there is a  cushioning pad on the left and right armrest, very clever design. In order to achieve the same effect as original one, we have developed a special mold for this armrest cushion.
Environmental protection and health
In addition to comfort, environmental friendliness and health are also concerns for many people nowadays. If a lounge chair looks great and feels comfortable but is not environmentally friendly or exceeds formaldehyde standards, then it is not a lounge chair but a hazardous item.
Every detail of our Eames Lounge chair replica, from raw materials to production and packing, undergoes strict inspection, and we reject any materials that do not meet environmental standards.
Many people need to air out their sofas and recliners for a period of time before feeling safe to use them. However, our Eames lounge chair replica can be used right after unpacking, without any concerns, even in households with children.
Packing
Eames lounge chairs are usually packaged in cardboard boxes, with one set (chair + ottoman) per box. It is easier to miss items if they are divided into multiple boxes. Whether it is the original version or a cheaper version, they are all disassembled into several parts and placed in the cardboard box, requiring simple assembly upon receipt.
Due to the removable cushions of original Eames lounge chair or high quality replicas, the cardboard box size is slightly smaller than that of the unremovable reproductions. However, the box for this chair is still relatively large in size and not light in weight. Many customers require drop shipping, so we attach great importance to the packaging to prevent any damage to this expensive lounge chair during transportation.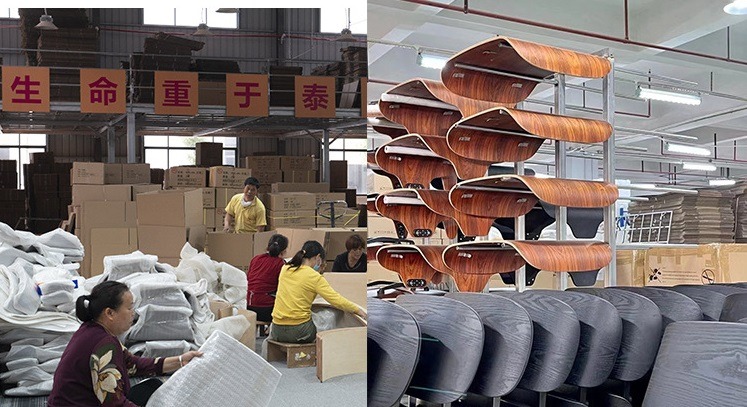 All components are first packed in transparent PP bags. We use foam padding to separate the components and prevent them from crushing each other. Thick foam boards are placed on all four sides, as well as the top and bottom, for added protection. Finally, the chair is packaged in a five-layers reinforced K=K cardboard box.
Our standard box size for high quality Eames lounge chair replica is 91x77x83cm (35.8"x30.3"x32.6"), gross weight is about 46kg (101lb), one 20 feet container can load about 50 sets Eames lounge chair with ottoman, and one 40 feet container can load about 120 sets, you can order other replica furniture in China and then mix them together in one container.
The cardboard box can be customized with the client's requested logo and product information. If additional reinforcement is needed, we can add a layer of plywood packaging on the outside of cardboard box. This plywood for package has high stiffness, does not require fumigation, and will not cause any issues with customs clearance for customers.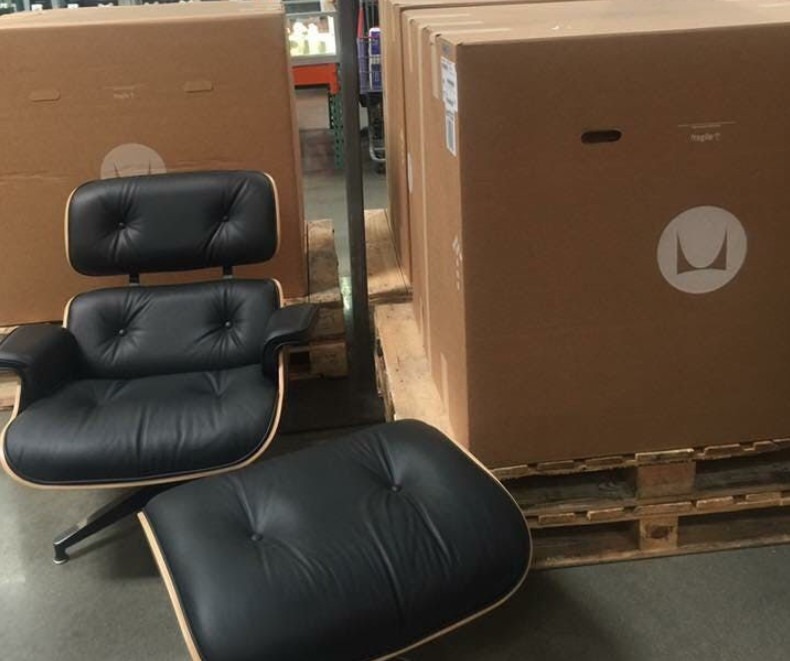 Custom Eames lounge chair
We can also supply custom Eames lounge chair according to the customers' requirements, mainly by changing the cowhide material to oil-waxed leather/synthetic leather/velvet fabric, etc. These non-leather materials can be customized in various colors or patterns. There are also a few customers who needs custom veneer for the inner and outer sides of bent plywood.
However, the dimensions, bent plywood, and metal parts of Eames lounge chair cannot be customized. Once these elements are changed, the resulting chair may no longer be considered an Eames lounge chair. And the cost of making different molds for these custom parts is also high unless there is a significantly large order quantity to support it.
We do not have any minimum order quantity (MOQ) requirements. Classic Eames lounge chairs, whether high quality replicas or cheap reproductions, are usually in stock and available for immediate shipment. For special custom orders, we can generally accept orders for one or two sets, although the delivery time may be slightly longer than for classic models.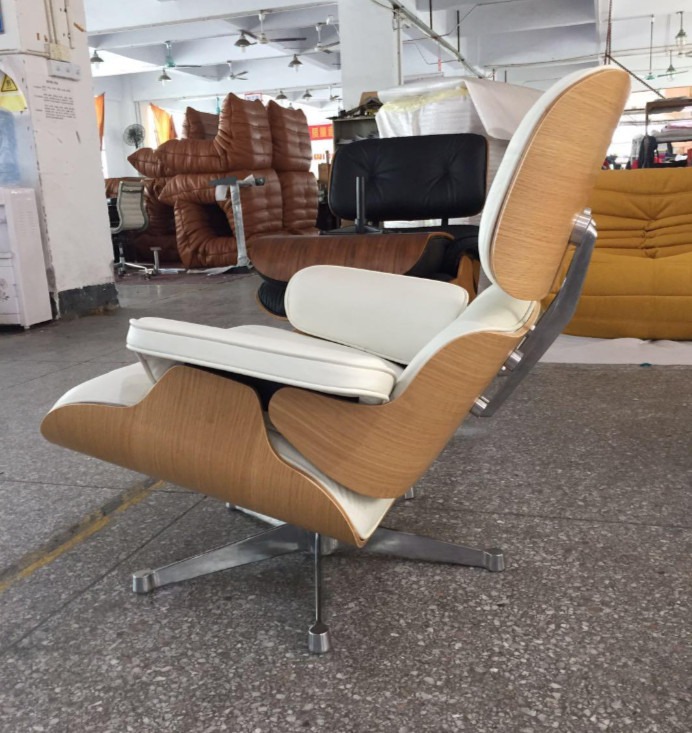 Worldwide shipping
China has a vast and well-developed logistics system. With options such as sea freight, air freight, land transportation, and railways, we can ensure the fast and efficient delivery of Eames Lounge chair to every corner of the world.
Therefore, our Eames Lounge Chair replicas are not limited to customers in any specific country or region. Even if you are far away from China and only order one chair, we can arrange air freight and delivery to your home or office. However, please note that the shipping cost may be more expensive in such cases.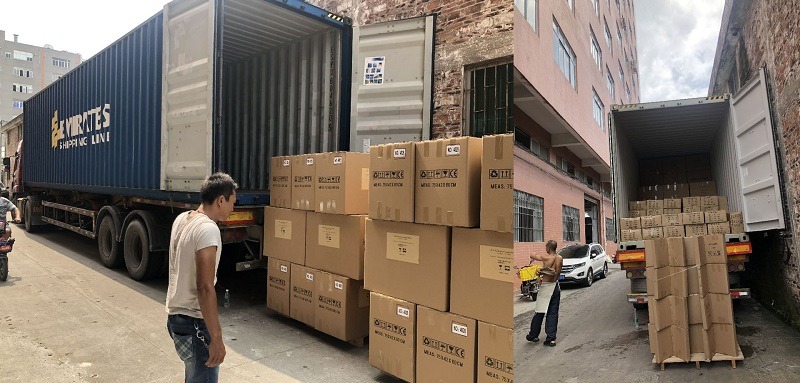 Warranty and customer support
Our Eames Lounge Chair replica comes with a 5-year warranty. In general, high-quality reproductions should not have any issues for up to ten years. However, if it is made of microfiber leather or fabric, it may wear faster than cowhide. It is important to regularly maintain and use Eames lounge chair cover when you will not use this chair and ottoman for a long time.
We also provide after-sales service for replacing Eames lounge chair spare parts. For example, if your chair cushion is damaged and removable, we can provide a free replacement cushion, you only need to afford the shipping cost. Please note that it cannot be replaced if the cushion is unremovable, this is one of the reasons why we recommend that you buy high quality Eames lounge chair replica, it is more expensive (but still much cheaper than original one from Herman Miller or Vitra), but you don't need to throw away it if one cushion is damaged.
The free spare parts replacement service is only applicable to customers who ordered Eames Lounge Chair from us. You can still enjoy this after-sales service if you are not our customer, but we will charge for the Eames lounge chair spare parts and delivery. We will also require you to provide pictures of your spare parts for verification to ensure a perfect fit.
Customer reviews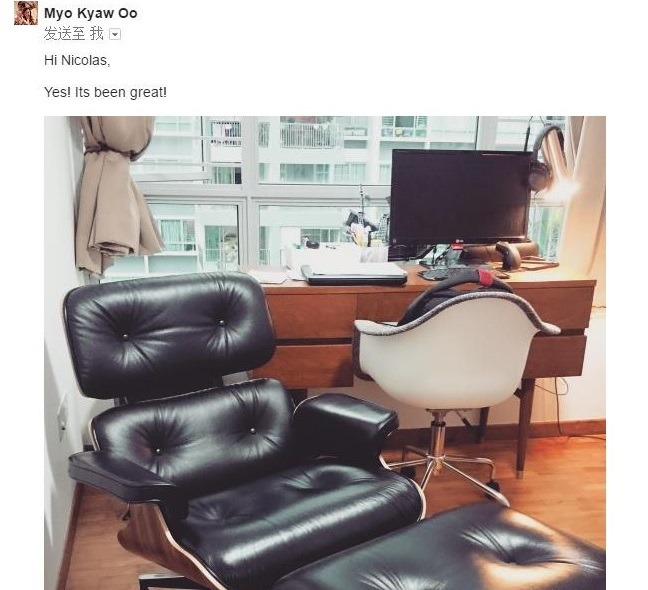 How to identify Eames Lounge Chair replica
Let's take a look at some images of low-end cheap Eames Lounge Chairs first.
The upholstery on these chairs appears flat and lacks elasticity. The overall appearance does not reach the level of a high-quality replicas, which is the exact same as original Eames Lounge Chair.
And the comfort on these low quality Eames Lounge chair reproductions is also subpar. Prolonged sitting can lead to lower back pain, completely deviating from the design principles of Eames couple.
The image shown above are from our customers who bought Eames lounge chairs from local furniture stores, e-commerce sites or other China furniture suppliers. Leaving aside any concerns about the proportions and dimensions, it is evident that the upholstery is problematic from these photos. It lacks the wrinkled and fluffy texture, and the seating experience is rather firm. Prolonged sitting can cause discomfort. Thus, these Eames Lounge chair replicas depicted in above images is of poor quality.
There are quite a few similar examples, but we won't delve into them here. Cheap Eames Lounge Chairs generally have several issues: they have different dimensions and proportions from the original version, they are made with low quality materials and craftmanship, , resulting in an appearance that differs from the original Eames Lounge Chair.
Of course, some customers may have budget constraints and can accept these issues, so they need these cheap Eames Lounge Chair reproductions. We can provide them as well and will confirm all details with these customers before manufacturing replica.
Authentic Eames Lounge Chair has an irresistible appeal with its fluffy cushions that have slight wrinkles. The sponge inside is extremely soft but also has excellent elasticity. Sitting on it provides a superb level of comfort and support to the body, especially in terms of lumbar support. There is no need for an additional lumbar pillow.
Now, let's take a look at our high quality replicas, with all the images taken by our our colleagues. Although our high-quality reproductions have not perfectly replicate the exact sitting experience of the official authorization, it is currently one of the best versions available in China.
To identify high-quality and low-quality Eames Lounge Chair replicas, here are a few key points:
1. Dimensions
The dimensions of Eames Lounge Chairs from different replica furniture manufacturers may vary. High-quality ones can achieve the same dimensions as the authorized, while low-quality ones may have slight differences.
2. Upholstery
a) The upholstery in high-quality Eames Lounge Chair replica is full, fluffy, and rounded, with natural wrinkles in the leather, because they are filled with latex foam, which provides a plump and soft sensation. Low-quality reproductions often lack this characteristic, appearing more flat and deflated.
b) Authentic Eames Lounge Chair replicas have removable upholstery cushions, following the mechanical principle of Eames design. In contrast, low-quality reproductions typically have unremovable upholstery cushions.
3. Leather
High-quality Eames Lounge Chair replicas are usually made with aniline leather or nappa leather, resulting in a excellent effect. Some customers might prefer using oily wax leather, but it tends to be harder in texture and lacks the same quality as aniline leather or nappa leather. In comparison, low-quality reproductions often use inexpensive split leather or even PU leather.
4. Shell with veneer
High-quality Eames Lounge Chair replicas use naturally textured veneer, such as walnut or palisander veneer, which is applied on both the inner and outer sides. Low-quality reproductions often lack veneer on the inner side.
Summary
Now you should know all the details about Eames lounge chair replica our intention is not to discourage people from purchasing cheap replicas and only buying expensive authentic Eames Lounge Chair or high-quality reproductions after discussing all these details. Everyone has different budgets, our purpose is to encourage everyone to first understand this classic lounge chair and then make a purchase based on their budget. If you plan to buy Eames Lounge Chair replica, feel free to contact us.
China furniture news, knowledge, design ideas & solutions.
Be informed as a priority of our news.